Testimonials
"First, I must say 'Thank you'! I am writing to tell you about my after experience from your reading. We met at a friend's house during a snow storm a few weeks ago. I went into my reading not saying who I wanted to come through for me. So I was completely open to whatever was going to happen. You told me her name was Jessica and you gave me her birth date (February 18th) TO THE DAY! You were able to tell me the month that she passed away (October). You asked who collected angels (I do). You told me that Jessica would be sending me 'an angel with a horn'. I did not go home after my reading and stayed at a local hotel, due to the weather. So I told no one about my reading. I went home the next morning and found no one home so I was still unable to share my experience from the night before. When my husband got home, he dropped a brown paper package on my lap. I had a funny feeling in my stomach. I opened the wrapping and inside was AN ANGEL WITH A HORN!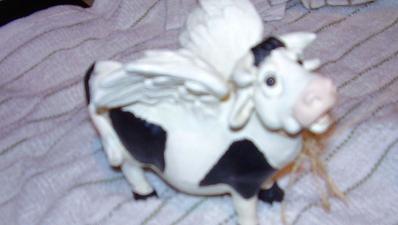 It was a cow angel with two horns on its head! I started to cry and shake. My husband asked what was wrong and I told him about what you had said the night before regarding Jessica and what she was going to send me. He, of course, said I was full of ----! So I took him to the kitchen and showed him my notes from my reading and there it was - collect angels - getting angel with horn from Jessica. He was floored and all he could say the rest of the day was an angel with a horn!
Linnea, this happened after we spoke last week about writing this testimonial for you. But during my reading, you also said that Jessica wanted me to see the movie 'Ghost' again. This past Sunday, I was doing laundry and what fell out of someone's pocket but a movie stub. It said 'Ghost' on it. I know that it was from one of my family members that had gone to see the movie 'Ghost Rider'; but, it doesn't say that on the ticket. It just says 'Ghost'. I can't wait to have another session with you!!"
Susan, 3/29/2007









The Miracle of Miranda - Testimonial told by Linnea

In February, 2004, I went to conduct a psychic party in Ludlaw, MA. The person who booked

this was unknown to me. I was met by her at the exit and followed her to her home. Upon entering her home, I immediately sense a dog in spirit. He told me to mention theWestminster Dog Show - which had actually begun that day in New York (that morning, as I was preparing to leave for Ludlaw, the dog show had been mentioned on the Today Show). He also showed me that he had won a prize in Madison Square Garden.
I relayed to the hostess what the dog had told me. She confirmed that he had indeed won at the show and showed me a picture of him receiving his prize. As I looked at the photo, the dog told me to mention Secretariat, the great race horse. The hostess then stated that while receiving this prize, the judge had said into the microphone, "Behold, the Secretariat of dogs."


The animal mentioned the name of his breeder and spoke of his progeny. He said that one of his pups, a daughter, would win the same prize he did. The hostess stated that she didn't think that particular dog had been entered into the contest in New York. I also told her that the dog in spirit, Magic, said this daughter would win that prize.
Magic also stated that they had a small amount of DNA which, in turn, would breed this female winner. It would take three times; but, it would result in a female pup. Magic said that they should name her Miranda and that she would be the champion that he had been.
I left to return to Boston and upon my return, the hostess called me. She had received a call after I left and was informed that Magic's daughter, Emmy, had indeed been entered in the dog competition in New York, at the last minute. She won her father's prize!
Emmy was bred three separate times. Twice it had failed; but, the third time, she was successful. She whelped on October 1, 2006 and had 2 males and 1 female. The hostess now has Miranda, whose birth was predicted in February, 2004, by her father in spirit, Magic.








This is Miranda, Magic's Daughter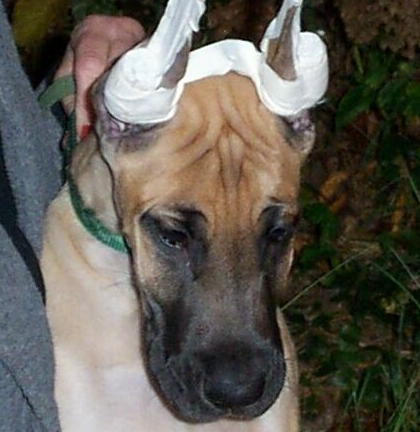 "I wanted to take a quick minute to write and tell you how my experiences with you have been so eye opening, to say the least. I will admit that my first visit was with a few friends as a tag-along. By the end of the night, I knew I was addicted and my mouth was hanging open with amazement. I have been a 'believer' but after my experiences with you, my faith couldn't be any stronger!
One of the most memorable moments was at a private party with 5 friends who were equally amazed! You hit many things for each of us but one of the most incredible connections you made was when you read my friend's brother. Their father had died suddenly when they were young. My friend's brother hadn't graduated from high school yet. Years later, he found the girl he would later marry, obviously not someone the father would have met due to his early death. You said to him, 'Your father knows you're married and he approves of her' and at that point, it he even looked to have tears welling up. You then proceeded to tell him that the father knew about the 2 children and gave their names! The room was pin-drop silent! How can someone say that you were guessing at those facts or that you could have overheard all that? As I said, I was always a believer as were the others in the room; but, each and every time we see you there are more things that leave us in awe! I could go on and on from all the things you have told me personally, as well as my friends, which have come true. We now feel like you are a permanent part of our future! Please know that there are more of us 'believers' out there appreciating your true talents - you are truly a special person with the ability to touch so many in such wonderful ways!"
Cheryl, 6/12/2007









"On April 29, 2007, I was at my friend's home to see Linnea. When it came time for her to read me, she stated that I would be receiving Mickey Mouse ears as a gift from my mother between May 5, 2007 and May 8, 2007. I have to say I was skeptical about this for I am 40 years old. Well, on May 7, 2007, I went to my friend's house for dinner and afterwards, she

gave me a pocket book to take with me on my trip. When I looked at the pocket book, I noticed that on the front stood Mickey Mouse with his ears. I can't explain the emotions that ran through me: excited, sad as well as shocked that Linnea had actually seen this gift coming to me from my mother. I was unable to take a picture of this; but, trust me, this is the honest to God truth. Linnea, I can't thank you enough for speaking to me and putting me in touch with my mother. I miss her terribly. However, after speaking with you, I feel as though she is at peace and safe. Thank you so much."
Christine, 6/13/2007









"I had a reading done on Saturday, April 28th, over my friend's house. During my reading,
you had mentioned three words: June, Lake Winnipesaukee and American Indian. At that time, I had no idea what all of these words meant. Well, needless to say, I found out soon enough. My boyfriend had planned a trip to Bike Week in Laconia, New Hampshire (Lake Winnipesaukee) and while driving through town, I stumbled upon a statue of an American Indian. This blew me away! Unbelievable! I simply can't wait for the other parts of my reading to come true. I will keep you posted. Thanks so much!"
Jackie, 6/19/2007

Page 1
•
Page 2
•
Page 3
•
Page 4
•
Page 5
•
Page 6
•
Page 7