A day full of SPIRITS
September 29, 2008
FOR IMMEDIATE RELEASE------
Swampscott psychic Linnea, a self-proclaimed medium between the living and the dead,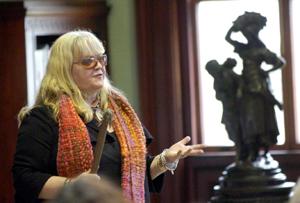 asked those who came to her group reading at the Lynn Public Library on Sunday afternoon to do so with an open mind.
Faith believers and those who were curious packed the library's Reading Room and watched her do her work.
Linnea says she acts as a channel between living people and their deceased loved ones and passes on messages to help guide the living participant's life in a positive way.
"I try to tell people the body is a temporary vessel. The soul is eternal," she said. "I only see good things. I don't see anything that isn't good. I think that relaxes people."
Participants were encouraged Sunday to bring mementos of those who passed on in order to help strengthen the channel between Linnea and the spiritual life.
She often gave messages to the non-believers who attended the reading.
"For the people in the room who haven't experienced this, you will," Linnea said.
Linnea, lives in Swampscott and now teaches a five-week Intro to Metaphysics class at Salem State College to over 2,000 clients per year. She also makes frequent radio appearances on stations all over the United States, Canada and England.
Locally, she holds a bereavement group at different locations in Peabody and the second Thursday of every month at the Marblehead Parks and Recration Department at 10 Humphrey St., Marblehead.
At the Lynn reading; Linnea was able to narrow down that a man worked in the criminal justice field and so did his son. He was a correctional officer and his son worked on border patrol.
After that man said he was a grandfather, Linnea predicted, "Guess what? He's going to have another boy."
Several of Linnea's previous believers attended the Lynn reading and told the crowd of some spiritual connection made with a loved one with the woman's help.
Before channeling conversations between audience members and the dead, Linnea spoke of successful communications she's accomplished in the recent past.
Linnea talked about a woman named Susa who she met at one bereavement meeting last winter in Peabody. Linnea said she could tell Susan had lost someone close to her named "Jessica" who was communicating to Linnea something about a date in middle February, possibly somewhere between Feb. 16 to 18.
Susan said Jessica was her 8-month-old daughter who had died.
"I said, Jessica is singing Happy Birthday on Feb. 18. Look for the angel with horns on it," Linnea said.
It turned out Feb. 18 was Jessica's birthday. Susan, a believer in Linnea's powers, told the psychic she was disappointed because her husband wouldn't believe the spiritual connection existed.
The husband, who was away on a business trip, returned with a gift for his wife: a stuffed cow angel with horns on it. Susan had never told her husband about her experience with Linnea.
"He said, I walked by it four times in the gift store. Jessica must've made me buy it,"